Our Founder/CEO was invited by the West Africa Centre for Crop Improvement (WACCI) to a Cowpea Value Chain Workshop on "Sustainable Intensification of Cowpea Production and Value Chain Development" under the WACCI led African Union – European Union (AU-EU) funded project at the University of Ghana. The aim of the workshop was to discuss extensively key issues affecting the production, processing, marketing and utilization of Cowpea in Ghana and opportunities for strengthening the existing value chains for Cowpea and to develop a policy brief that should inform key stakeholders appropriately.
The one-day workshop was held at WACCI's Conference room, University of Ghana, Legon on March 4th 2019.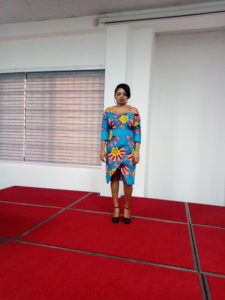 The CEO in a Photoshoot at the the WorkShop
In her presentation, she stated that insect pests, long period of drought, lack of education and funding were major constraints the basic female farmer faces.
She pleaded with stakeholders to come up with policies that Will address gender disparities in the Cowpea value chain. She also called on all agriculture stakeholders to help in any little way he can to provide some form of extension services to basic farmers because there are inadequate of extension service officers in Ghana and that is a setback to Ghana's food security achievement especially rural households.